The Pueblo Holistic Health & Living Fair is a Southern Colorado Holistic Expo Production.

~ JOIN US FOR OUR NEXT EVENT ~


Saturday, November 7, 2015 10 AM to 6 PM
Sunday, November 8, 2015 10 AM to 5 PM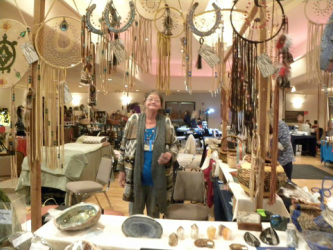 LOCATION:
Colorado State University in Pueblo
Occhiato University Center
ADMISSION:
$5 Daily with a Special Admission of $8 for both days
12 and younger enjoy free admission
Admission includes workshops.
Included in the cost of admission is your ticket to the
complete
workshop line-up
.
Spend your weekend enjoying the fair and gaining insight.
Attend the work shops,
eat good food and have fun!
The Pueblo Holistic Spring Fair was previously scheduled for April 11 and 12, 2015.
Colorado Springs scheduled their Holistic Fair for the same weekend.
The CSU ballroom was not available for us to change our dates,
and Colorado Springs could not change theirs.
So, it is with a heavy heart that we came to the decision to cancel the April Fair.
We look forward to seeing you on November 7 and 8, 2015.
Psychic Sundays return summer of 2016!
---
Your Life Is Waiting!


*Participation as a holistic practitioner, vendor,

reader, merchant or other

*Contact us, receive our mailings*Tickets
Awaken to your potential. We welcome seekers on all levels exploring and sharing on this amazing journey. Learn, grow, thrive! You will find individuals and businesses, local and national experts, holistic wellness practitioners, psychic readers and visionaries, metaphysical merchants, teachers, new age musicians, authors and more at our events.




Learn the value of
the holistic approach
to living.





Explore holistic and metaphysical alternatives in a setting that is educational and uplifting.

The Pueblo Holistic Health & Living Fair was established in 1999, and we have filled a niche in our community ever since. Our service to the community is our first concern;
and we seek to fulfill that service by providing insightful guidance, options and experiences to holistic, alternative, metaphysical and spiritual healing, living and well-being.

The Pueblo Holistic Health & Living Fair takes place
twice a year, usually on the first full weekend in November
and the first full weekend in April.

---

Find yourself.
Be happy, health and free!



Find your true self, explore greater depths of being,
find your soul group and people who are like-minded.

Your health, well-being, happiness, soul-mate
are waiting to be discovered!

The Pueblo Holistic Fair just might have the answers
to your questions.

Explore the possibilities at our supportive
New Age Event.












Coming together in partnership to create
an enlightening, educational and entertaining
experience for all.






---

The Pueblo Holistic Health & Living Fair is dedicated to our community by participating in "Pay It Forward."

TO DATE:

Green Peace

Orchard of Hope

Sierra Club - Local Chapter

Second Chance Wildlife Rehab Center

Lambda Chi Alpha to benefit North American Food Drive



A sample of our advertising from a previous event:



A Semi-annual Metaphysical Event

Producers: Linda Weiner and Temara Speaks